Cuando los invitados se vuelven parte de nuestra familia
Lo pasé muy bien en Vapor 156. Reservé mi habitación muy espontáneamente 2 días antes de mi llegada a... Lee mas

Daniel

12/18/2019

Este lugar es impresionante! Cuando llegué me sorprendió el hermoso edificio y está cuidadosamente seleccionado a mano.... Lee mas

Fabian

11/25/2019

It was a really nice stay in this hotel during our first days in Cuba. Jorge and all people around him was very nice to us. He took us for city sightseeing and showed us noce places. Everything was clean and well prepared. Food was delicious. We spent a great time there. And biggest point I wanted to mention here - they helped us a lot when we couldn't leave Cuba with our original flight because of Corona outbreak - Jorge manage a rooms for us so we had a place where to saty overnigh and helped us with internet so we were able to buy new flight tickets and many other things which helped us to get home. So we completelly recommend this hotel for stay.

When I arrived in Havana in the later evening as a solo first time visitor, I was a little apprehensive of what to expect. I need not have been concerned. Javier, the night manager gave me a warm welcome and was able to point me in the direction of a local eatery. The room itself was very comfortable and well appointed. Next morning Jorge was most more than helpful in giving directions and suggesting places to visit. The location could not have been better, being a few minutes from the sea front (Malecon) with both the old city and the more modern Vedado within walking distance. I must add my apreciation of all the help offered when the Corona emergency made me cut short a stay in Varadero and reurn to Havana. A quick call to Jorge to say I was on my way and he had a room prepared as well as helping with travel advice and other arrangements. In all Vapor 156 os a perfect choice for someone who want to see the best of Havana and needs a place with someone who speaks perfect English, or German combined with great knowledge and customer service

My partner and I stayed in early January 2020. Our Spanish is totally limited so I loved staying here with staff who were happy to help us out in English. The building is really pretty and recently renovated as you can see in the pictures. Nice hot water shower and cool air conditioning. We really enjoyed walking from the hotel to the old town to see the "real" Havana or one can take a taxi to the old town for approx 10 or 15 Cucs.Israel, one of the staff was especially the most friendly and helpful and welcoming when they checked us in and gave us a welcome drink and chatted to us in the courtyard. Israel gave us lots of tips for restaurants and transport too. Also Jorge really knew his stuff but I asked Jorge to show me a landmark on the map but he told me I don?t need a map and just told me all the directions. I got out onto the street and got lost and didn?t have internet so I wished Jorge had helped me with the map. I think Jorge just didn?t have the eyeglasses handy when I asked. The breakfast staff were really lovey doing an early breakfast for us before the official time when we had an early day program.Later in our Cuba trip we stayed at lovely Casa Particulars (homestays) with families which was really fun and homey, but it was great for our first few days in Cuba to stay in a hotel with 24 hour reception and English speaking staff to help us get into the groove of the country. We found it hard to find a hotel that was not super expensive, until we found this one.I definitely recommend Boutique Hotel Vapor 156, and will stay again when I come to Cuba next time.
This was our first night in Cuba and we enjoyed staying at this small and stylish guest house very much. Our room was spacious and so was the bathroom. Most of all being new to the country we were impressed by the stylish antique furniture,chandeliers,candelabra and chaises longues. The staff were very welcoming and breakfast was nicely presented. The area is good-and a renowned but reasonably priced restaurant Bikeys is close at hand as well as a local food cafe called Loco de Cuba

Quiero reservar tu hotel por 3 días completamente para mi grupo. pero no pude encontrar ninguna forma de conexión para reservar ¿Cómo podría tener algún número de contacto, correo electrónico o sitio web de su Hotel? Muchas gracias por adelantado
Las personas encargadas de hacerle sentir como en casa aún estando lejos.
Elizandro
DUEÑO
Creatividad y fuerza para hacerte sentir el encanto y la energía positiva de la casa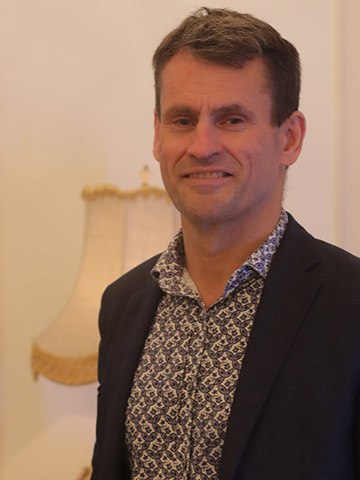 Dirk
DUEÑO
Comunicativo y velando por los detalles para que todo funcione perfecto para usted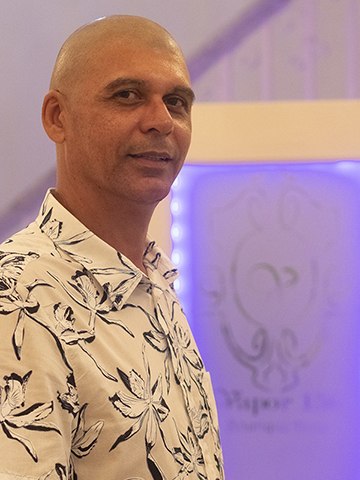 Jorge
GERENTE

Entusiasta, listo para llevarte a donde quieras ir
Luis
ADMINISTRADOR
Tranquilo y sonriente, siempre con una solución a mano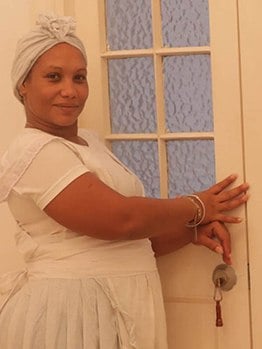 Yenest
CAMARERA DE HABITACIÓN
Amable y dispuesto a ayudarte en cualquier momento
Javier
RECEPCIONISTA NOCTURNO

Carismático y siempre dispuesto a cuidar de usted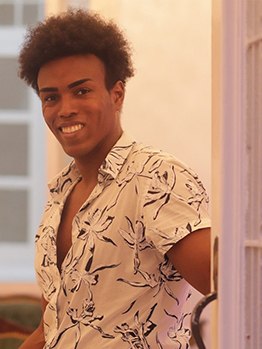 Israel
RECEPCIONISTA NOCTURNO

Conversador, un narrador de historias de Cuba y su gente
Dear guest.
Here you can find a collection of our newsletters and the hotel magazine. Enjoy reading them. Don't forget to send us your comments. They are valuable to us.
Thank you.
Looking for Vapor 156 song!

Vapor 156 Magazine
Vapor 156 magazine. Have a virtual tour. Live owners' experiences to make a dream come true.
Newsletter April 2020
Newsletter April 2020, Issue No. 1. Believe on a better future! Looking for Vapor 156 song! Follow us!